We are open
24 hours per day!
Русская версия

Site development - Yuri Shpak ©

The best recreation during travels is billiard
If you wish to have both comfortable accomodation at Borispol 4 Seasons Hotel and absorbing recreation time during visit to Borispol, our hotel is ready to offer you not only conference-hall for business meetings and presentations.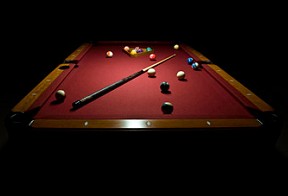 From now on, besides free cable TV and wireless Wi-Fi Internet in each room, we also may offer guests of 4 Season Hotel possibility to play billiards at amateurish and professional level.
We have equipped for our guests and visitors professional billiard parlour. Now they may play Russian billiard and pool in the specially equipped for this purpose parlour.
We have excellent 10-feets professional tables covered with splendid British woolen.
One hour of the billiard playing in the Borispol 4 Seasons Hotel is UAH 60 / USD 8 / EUR 6.